OMG
FireFan Goes Viral… A great brand that inspires loyalty and ignites your passion
By
|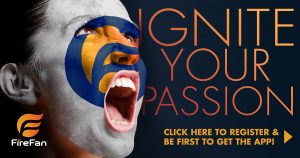 There has NEVER been a game like FireFan.
With FireFan, you can play along LIVE while competing against sports heroes, celebrities, and friends. You make the calls. You predict the plays. Scores. Penalties. And More.
The FireFan personality is:
FUN  Anyone, any age can play
IRREVERENT   A little swagger, brazen and bold
PASSIONATE  No longer a spectator…an active participant
COMPETITIVE  Can you beat the Pros?
HUMOROUS   Serious about the game, but  always with a sense of humor
EXCITING  Puts you right into the action
CASUAL  Play anywhere, anytime
APPROACHABLE   No prep, just pick it up and play
COMMUNITY   You are part of group, not in solitary confinement